Alaska Pilots Picket Anchorage Shareholders Meeting
About 60 Alaska pilots—joined by their families, Alaska flight attendants, and ALPA pilots from Continental, FedEx, and Horizon—picketed outside the Alaska Air Group Shareholders Meeting in Anchorage Tuesday afternoon. ALPA President Capt. John Prater joined the pilots on the picket line, at the shareholders meeting, and at a post-meeting rally.
Profits are improving both for Alaska Airlines, and the industry as a whole, and Alaska's pilots, who have been in negotiations for a new contract since January, are demanding to be partners in that success. Tuesday's turnout sent a strong message to the Board of Directors, shareholders, and management that Alaska's pilots expect not only an increase in pay, but also to protect or enhance other sections of their contract.
Alaska Airlines MEC Chairman, Capt. Tom Crank, addressed the Board of Directors, shareholders, and CEO Bill Ayer during the annual shareholders meeting. "We recognize the value of a virtuous cycle; in fact, we want to be part of it. But it will take great effort to reconnect your pilots and restore the Alaska spirit," he said. "As times have improved for our company, they have not changed for our pilots."
Following the shareholders' meeting, Alaska pilots and their families rallied at the Anchorage Marriott in support of their MEC and Negotiating Committee.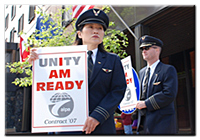 Watch video footage
of the picketing:
Capt. Prater addressed the pilots at the rally: "I hear from the national Strategic Preparedness and Strike Committee that they are proud and inspired by the unity, strength, and resolve shown by your pilot group. You have taken a leadership roll in ALPA . . . all of ALPA is here to support you in your efforts to achieve a new contract."
At the rally, Negotiating Committee chairman, First Office Paul Stuart, echoed the sentiment expressed by the pilots on the picket line and at the shareholders meeting.
"The notion that this contract will be 'cost neutral' is as unacceptable today as it was when we entered into negotiations; and it will be just as unacceptable tomorrow. You deserve better. Your families deserve better," he said.
Click here to read coverage of the event -
Anchorage Daily News
http://www.adn.com/money/story/8973238p-8889095c.html
Seattle Times
http://seattletimes.nwsource.com/html/businesstechnology/2003745383_alaskair13.html
Juneau Empire
http://juneauempire.com/stories/061307/sta_20070613027.shtml