Continental Pilots Rally at Shareholders' Meeting on June 12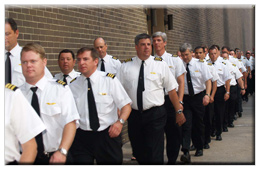 Houston, Tex. - Just under 100 Continental pilots participated in a rally held in conjunction with the Continental shareholders meeting today, Tuesday, June 12 at the Hyatt Regency hotel in downtown Houston. Capt. Tom Donaldson, the chairman of the CAL MEC, made a statement at the meeting. The purpose of the rally was to acknowledge Company management and their decision to meet with Continental pilots to discuss a protocol agreement for contract negotiations. In May, the union asked the company to begin contract negotiations early, this summer, to be able to finish negotiations by the contract's amendable date, Dec. 31, 2008. The company responded favorably to this request. The Negotiating Committee and the Company representatives are scheduled to meet next week to begin discussions on the protocol agreement, which would set the parameters for contract negotiations.
Said Capt. Donaldson, "Today, we acknowledged the forward thinking decision that Continental Airlines management has made in agreeing to meet with us to establish a negotiating protocol for our contract. We anticipate that this will initiate a successful process, culminating in a new contract for our pilots by Dec. 31, 2008. We believe Continental Airlines has a visionary business plan that has positioned our airline to become a dominant force in the industry. We also know that this business plan can only succeed if we function together as a highly competent, professional and committed team. We have worked diligently over the past two decades to keep the team moving forward, helping the company overcome any and all challenges to our survival and success. Every day, we take our leadership core competencies and professional ethics into the skies throughout the world to deliver our product—consistently, reliably, safely and efficiently. It is time to be fully acknowledged for our key role on the Continental team. We expect the company to be on time for us in securing our new contract and to work with us in the process."