ALPA and Other Transportation Unions Rally in Washington, D.C.
More than 200 ALPA pilots, family members, and staff rallied May 17 for the 2007 Transportation Day of Action in front of the U.S. Capitol to declare "Enough Is Enough" to Washington politicians who've turned a deaf ear to their transportation worker constituents and allowed airline managements to manipulate union, pension, and bankruptcy laws.
ALPA's president, Capt. John Prater, and a variety of other ALPA national officers and MEC chairmen, standing in front of a giant, inflated rat grasping bags of money, berated the White House and Congress for ignoring the American worker and deferring to the interests of big business.
"We've watched as airline managements, during the last six years, have slashed employee wages and benefits," said Prater. "Now, management has the gall to line its pockets with those same cost savings. It's an injustice, and we're not going to tolerate it. We're taking it back."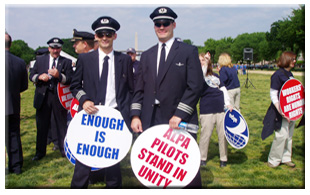 Prater also took the opportunity to officially introduce Capt. Mike Donatelli (Delta) as the chairman of the recently created Strategic Preparedness and Strike Committee, which serves to support the strategic goals of ALPA's MECs by helping them build their internal organizational structures to promote and leverage pilot unity.
After the spirited ALPA event, the attendees proceeded to a larger rally at which members of the International Association of Machinists and Aerospace Workers, the Association of Flight Attendants, and dozens of other transportation unions gathered on the National Mall expressed their collective outrage at excessive management compensation packages, the state of transportation jobs, the termination of pensions, and the general treatment of labor in the United States. Much of this dialogue focused on the proposed Employee Free Choice Act, which provides employees easier access to union representation, and on the search for a president who will work with, rather than against, the U.S. labor movement.
Rally attendees heard presentations from a host of presidential candidates, national labor representatives, including Capt. Prater, and other pro-labor national lawmakers. Sen. Joseph Biden (D-Del.), Rep. Dennis Kucinich (D-Ohio), Sen. Hillary Clinton (D-N.Y.), and other presidential contenders addressed the sea of workers, who came from as far away as Hawaii and Alaska to participate in this important event.
The event garnered significant media coverage including a major piece in USA Today.