Scores of Northwest Employees Rally in Detroit Against Executive Greed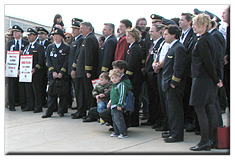 April 20, 2007—More than 250 Northwest Airlines employees rallied yesterday in Detroit to voice their anger with Northwest executives and their plan to use employee pay cuts to reward themselves with $400 million, when the company emerges from bankruptcy. Northwest pilots, flight attendants, mechanics and ground workers were joined by ALPA pilots from Champion, Continental, ExpressJet, Mesaba, Pinnacle, Spirit, United, and US Airways as they picketed at the DTW Metro Airport and rallied at a nearby park.
"It is unconscionable to use employees' pay cuts to provide huge bonuses to the same executive team that led our company into bankruptcy," said Capt. Dave Stevens, Northwest MEC chairman. "Northwest pilots will continue to focus on safety and legally fly the contract, but Northwest Airlines will not have a successful future if its employees are demoralized, fatigued and angry."
Northwest employees and ALPA pilots listened to speeches from ALPA's President, Capt. John Prater; Capt. Stevens; AFA-CWA Int'l Vice-President Veda Shook; and AFA-CWA Northwest MEC Vice-President Andy Wisbacher. In addition to talking with union leaders, everyone at the rally enjoyed food, beverages, camaraderie, and the unveiling of the Northwest executive mascot.
This event generated news stories in the Detroit Free Press and the Detroit News and television coverage on the ABC and Fox local news channels.
Northwest executives' plan to profit from Northwest's bankruptcy comes soon after the Northwest pilots agreed to give $358 million annually (including a 23.9 percent pay cut) during the next 5 years to help the company avoid liquidation. This sacrifice was in addition to the $265 million (including a 15 percent pay cut) annual concession Northwest pilots gave in December 2004.
Northwest pilots' total concession of $623 million a year totals more than $4 billion through 2011.
"Northwest's senior executives will not only recoup all the concessions they made since 2001, but will also be provided far more in bonuses than any other employee group," Capt. Stevens said.
"Northwest executives will profit while the employees who suffered the most by having our pay, work rules, benefits, and retirement slashed will receive pennies on the dollar from Northwest's employee profit- and success-sharing programs. Even the inclusion of Northwest pilots' claim sale proceeds would at best only return about 20 cents on every dollar conceded in bankruptcy court," Capt. Stevens concluded.