Northwest Airlines Pilots Picket in MSP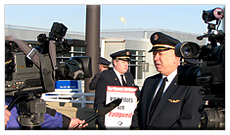 March 8, 2007 - Northwest Airlines pilots, including their entire Master Executive Council (MEC), picketed yesterday at Minneapolis/St. Paul International Airport to inform management that the pilots deserve and expect to share in the airline's success. Northwest pilots also expressed their anger that Northwest management will soon announce a new executive compensation plan that will reward the same executive team that led the airline into bankruptcy.
"The pilots gave concessions to save Northwest Airlines, not to enrich the Northwest executives," said the MEC chairman, Capt. Dave Stevens.
Northwest pilots agreed last year in Bankruptcy Court to give $358 million annually (including a 23.9 percent pay cut) to help the airline avoid liquidation. This sacrifice was in addition to the $265 million (including a 15 percent pay cut) annual concession Northwest pilots gave in December 2004. Northwest pilots' total concession of $623 million a year totals more than $4 billion through 2011.
Northwest is now on far better financial footing than the grim Chapter 11 business plan that the airline's executives sold to the Bankruptcy Court last year to support their ultimatums for deep employee concessions. As a result, Northwest has the ability to reverse the draconian pay and work rule changes pilots conceded to save the airline from liquidation.
"The employees of Northwest Airlines deserve to share in any company success because it was the employees who sacrificed their pay, work rules, benefits, retirement, and in some cases, jobs to save Northwest from liquidation," said Stevens.