Comair Rally Draws Big Guns
One day after the bankruptcy judge delayed issuing a ruling on Comair managements' requests for a strike injunction and to strip parts of the 1113 proposal that would benefit the pilots, more than 350 pilots and family members rallied to show their dissatisfaction. They were joined by ALPA leaders, including president, Capt. John Prater, and vice-president, Capt. Bill Couette.
The Comair Family Awareness Rally was held in Cincinnati and simulcast to Orlando, Fla., Greensboro, S.C., and JFK, where a combined total of nearly 100 pilots and family members watched the event from afar. Speakers at the rally, ranging from MEC and LEC officers to national officers, emphasized the tenaciousness and resolve of the Comair pilots and offered ALPA's unlimited support in their fight against management and the bankruptcy court.
"Comair pilots go to work each day to take care of their passengers and their company," said Prater. "Comair management does not respect our pilots' professionalism. They want to reward our pilots by imposing terms and conditions that are insulting. Management will not succeed."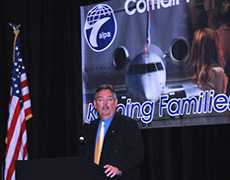 "The future for Delta Air Lines looks promising, as does the future for Comair," said Comair MEC chairman, Capt. J.C. Lawson. "Our pilots will not join in the race to the bottom. We will stand strong and we will resist management's assault."
Last Thursday, the bankruptcy judge for the South District of New York heard further argument but did not rule on Comair management's request for a strike injunction. At the end of the hearing, the judge indicated that he was not prepared to make a ruling and that he would need some additional time. He directed the parties to enter into a stipulation that would extend until midnight on February 9 the parties' interim standstill agreement that would otherwise have expired on February 2.
The judge stated that he would try to issue a ruling before February 9, but may not. The judge also did not rule on Comair management's other motion, the so-called "clarification" motion, in which management asked for permission to implement only those parts of its Section 1113 proposal that will save it money without implementing any of the items in the proposal that are "upside" items for the pilots, like future pay increases.
The bankruptcy judge indicated that he anticipates scheduling a hearing on this motion before he rules on it. Comair pilots will continue their fight in pursuing a fair, equitable, and consensual agreement that is in the best interest for all parties.
Others attending the rally in support of the Comair pilots were MEC chairmen Capts. Dave Nieuwenhuis (Atlantic Southeast), Bill Drexler (ExpressJet), Tom Wychor (Mesaba), and Matt Marsh (Champion).