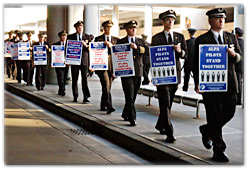 Comair Pilots Continue to Walk the Line
December 14 - Comair pilots conducted informational picketing on Wednesday at the Cincinnati airport Delta terminal. Passengers, the media, and Comair management all saw a determined group of pilots marching to express their discontent with Delta and Comair managementís unwillingness to reach a fair and consensual agreement.
Comair pilots were joined by other ALPA pilots from ASA, ExpressJet, and Pinnacle. Also joining the group was the Corporate Rat - the giant inflatable rat, who has come to symbolize rotten management.
Watch video coverage of the picketing: DSL/Cable | Dial-Up
Photos by Gwen Alletag