Comair Pilots Picket at Delta's Doorstep
Comair pilots conducted informational picketing December 6 outside the Atlanta corporate offices of Comair parent company, Delta Air Lines. The pilots carried signs with slogans like "It's not the cost of labor/ It's the lack of leadership" and "Talk to us, not to the bankruptcy court." The pilots were protesting Delta and Comair managements' decision to sidestep the negotiations process and file an 1113(c) motion. The court will rule on whether Comair management is allowed to repudiate the pilot contract and impose terms of employment.
Joined by fellow ALPA members from Atlantic Southeast (ASA), ExpressJet, Mesaba, and Pinnacle, the Comair pilots conducted a briefing using the ASA Strike Center and proceeded to the information picketing location, just west of the Delta offices, where pilots walked the information picket line for several hours.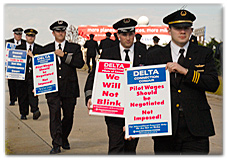 Despite the 1113 motion, the Comair pilots and management continue to negotiate. However, the bankruptcy court has requested final written statements by December 11.
During the recent court proceedings, the pilots learned that Comair is projected to earn at least $50 million in 2006. All along, the Comair pilots have taken the position that they are willing to negotiate concessions if management can demonstrate how pilot contract relief is necessary for Comair's recovery from bankruptcy. In addition, the pilots want something in return for any concessions they would agree to, such as job security guarantees.