ASTAR Pilots Picket Company, Demand Contract After Three Years of Talks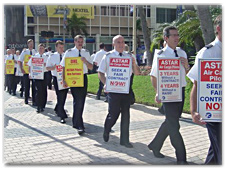 Angry over managements' deliberately slow pace in negotiating a new contract, more than 70 pilots of ASTAR Air Cargo picketed in downtown Miami, home of the ASTAR corporate offices, and at the Plantation, Fla., corporate offices of DHL on December 6. The informational picketing served as a public display of the pilots' unity and frustration with the lack of progress in their contract negotiations. The ASTAR pilots were joined by several pilots from Polar Air Cargo, including several MEC leaders.
"The informational picketing marks only the second time in ASTAR Air Cargo history that the pilots have had to take their message public," said Capt. Earl Smith, MEC chairman. "Not once when ASTAR Air Cargo was DHL Airways, a part of global shipping giant DHL, did the pilots find it necessary to stage a public demonstration during any contract negotiations. We hope that our management is listening to our message."
ASTAR pilots are among the most efficient pilots in the express air cargo industry with the best on-time performance record, yet they are paid the least among the pilots of the top three carriers. Further, the current contract permits the ASTAR pilots to work more hours and for less overall compensation than other pilot groups of the big four air express carriers, Smith said.
Mediated talks are scheduled to resume on Jan. 8, 2007, in Cincinnati. The ASTAR pilots have also publicized their cause by running newspaper ads in the Wilmington, Ohio, News Journal and the Cincinnati Enquirer.