Release #09.007
March 18, 2009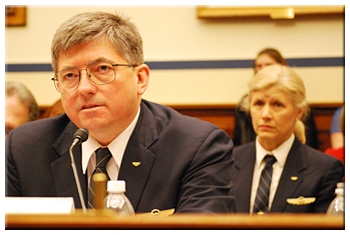 Need to Modernize U.S. National Airspace System "Critical"
WASHINGTON – In testimony [written/oral] before the U.S. House Aviation Subcommittee today, Capt. Rory Kay, Executive Air Safety Chairman of the Air Line Pilots Association, Int'l (ALPA), underscored the need for rapid action to modernize the national airspace system to benefit passengers, cargo shippers, and all who depend on air transportation.
"The need for action has now become critical," said Capt. Kay before the U.S. House subcommittee. "The latest technology, which capitalizes on space-based communications, navigation, and surveillance systems, can provide precision and efficiency never before possible."
In his testimony, Kay added that modernizing the national airspace system through NextGen promises to advance safety, increase capacity, reduce delays, and play an essential role in cutting emissions to help address climate change.
Kay adamantly maintained that a sustained funding source must be central to any discussion of modernizing our airspace. "A project of this scale and significance cannot stop and start because of sporadic funding," he said.
In presenting ALPA's perspective as the largest non-governmental safety organization in the world, Kay pointed to the need to leverage equipment and technology already on the airplane and for all the stakeholders to be deeply involved in a collaborative partnership.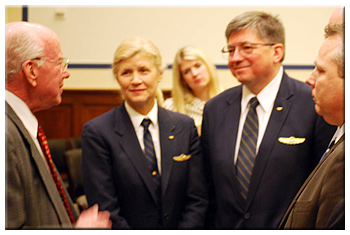 Automatic Dependent Surveillance Broadcast (ADS-B), area navigation (RNAV), and Required Navigation Performance (RNP) are technology areas in which progress toward NextGen could be accelerated right now, said Kay. "We urge the FAA to lead the effort toward making the most of all that these technologies offer."
"It is, however, important to remember that a well-trained pilot is the airliner's greatest safety asset," continued Kay. "Even with the newest technology and automation, pilots must still have timely, accurate information so that we can react swiftly if a flight doesn't go as planned."
Kay emphasized the absolute necessity of fully engaging airline pilots and other stakeholders in all airspace modernization efforts. "If it doesn't work for pilots when we fly the line, a procedure that may look great on paper will not help us capture the enormous potential of NextGen. Professional airline pilots and controllers must be involved every step of the way."
When asked to name the most important next steps to move forward with modernizing the national airspace, Kay cited the need to "ensure sustained funding and appoint and confirm an FAA Administrator."
Founded in 1931, ALPA is the world's largest pilots union, representing 52,250 pilots at 35 airlines in the United States and Canada.
# # #
Contact: Linda Shotwell, 703/481-4440 or media@alpa.org