Alaska Pilots, Families Rally to Reach Agreement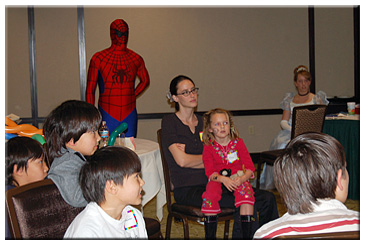 March 13, 2009 - Hundreds of Alaska Airlines pilots and family members turned out in Seattle, Anchorage, and Orange County, Calif., on Saturday, March 7, for Family Awareness Rallies, less than 12 hours after the Negotiating Committee reached an agreement in concept with management for a new contract.
Two productive negotiating sessions in February produced cautious optimism that an agreement might soon be reached. The Alaska Airlines Family Awareness Winter Blast on March 7 was advertised as a chance for pilots and their families to provide extra leverage for negotiations by demonstrating unity and support.
Instead, the event turned into a chance to share, in person, news that had been delivered shortly before midnight the day prior—news that an agreement in concept had been reached.
Participants in all three bases were linked via live video conference to hear speakers including ALPA President Capt. John Prater; National SPSC chairman Capt. Mike Donatelli; Phil Comstock of the Wilson Center for Public Research; Alaska MEC chairman Capt. Bill Shivers; Alaska Strike Preparedness Committee chairman Capt. Rich Madden; and Negotiating Committee chairman First Officer Paul Stuart.
Because the MEC still must vote to approve the agreement in concept as a tentative agreement before it would be addressed by a membership ratification vote, the specifics about the agreement have not been shared. However, participants at last weekend's rally heard that their unity was crucial to reaching the agreement. They also learned about the process that could lead to membership ratification and had an opportunity to ask questions.
While the adults received information and asked questions, younger family members were entertained by clowns, balloon twisters, magicians, and other kid-friendly activities in separate rooms supervised by nannies. Having activities designed to keep the kids occupied allowed pilots and their spouses time to participate in the discussion.
You can view a video about the event on the ALPA Channel at www.ALPAchannel.tv.