Release #09.HAL3
March 13, 2009
ALPA Leaders Meet with Hawaii Governor
President, Local Pilots Brief State Officials on Status of Talks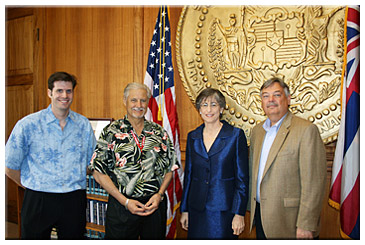 L-R: Capt. Mike Garnett, AIS Negotiating Committee; Capt. Eric Sampson, HAL MEC Chairman; Gov. Linda Lingle (R-HI);
Capt. Prater.
HONOLULU – The president of the world's largest pilots' union met Thursday with Hawaii Governor Linda Lingle and other state officials to brief the governor on the status of ongoing labor negotiations at Hawaiian Airlines and Island Air.
Capt. John Prater, president of the Air Line Pilots Association, Int'l (ALPA), told the governor that ALPA feels a strong sense of urgency in completing a new contract for the Hawaiian pilots after nearly two years of stalled negotiations.
"I told Governor Lingle that we feel we have moved beyond the realm of simple negotiations and now are in a labor dispute with Hawaiian," said Prater, a former Oahu resident. "She clearly understands the vital importance of air transportation to the state's economy, and we appreciated her taking the time to listen to our concerns."
Governor Lingle, Chief of Staff Barry Fukunaga, and Darwin Ching, director of the Hawaii State Department of Labor and Industrial Relations, also met with Capt. Eric Sampson, chairman of the Hawaiian Airlines chapter of ALPA, and Capt. Mike Garnett of the Island Air pilots' Negotiating Committee. Island Air, another ALPA-represented airline, is also in contract talks with its management.
ALPA and Hawaiian have been in negotiations since spring 2007. Both sides agreed to enter federal mediation in September 2008, and the last scheduled session with the federal mediator will be held April 7-15.
"With two weeks of intensive bargaining coming up in April, we wanted to make the governor aware that the Hawaiian pilots have already made numerous contract concessions for the past six years, both in and out of bankruptcy," Sampson said. "Our perspective is that the company is profitable and can afford to pay us small, reasonable cost-of-living raises."
Founded in 1931, ALPA is the world's largest pilot union, representing 52,250 pilots at 35 airlines in the United States and Canada, including more than 400 pilots at Hawaiian Airlines and 50 at Island Air. Visit the ALPA website at www.alpa.org.
# # #
ALPA Contacts: Eric Sampson, (808) 836-2572
Rusty Ayers, (847) 323-9519