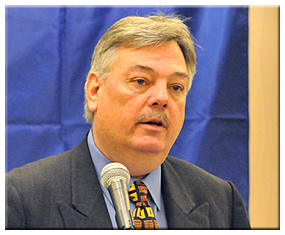 ALPA Representatives, Old and New, Come Together for Leadership Conference
February 24, 2009 - Beginning with a moment of silence for the crewmembers of Colgan Air Flight 3407, more than 80 ALPA leaders from 36 master executive councils convened in Herndon this week for the Association's annual Leadership Training Conference.
Attendees at the 4-day meeting, which began Monday, represent the entire spectrum of the Association—from newly-elected local executive council representatives of small pilot groups new to the union structure to experienced union volunteers from the world's largest pilot group to those with a decade or more of ALPA service—and all have volunteered to serve in a leadership role.
But as ALPA's president, Capt. John Prater, observed in his opening remarks, they all share a common purpose: "You stood up—you became representatives because you had something you wanted to solve."
Capt. Bill Couette, ALPA's vice-president–administration/secretary, provided what he called a "30,000-feet flyover of the Association," giving a big-picture description of how the union conducts its business. "To do your job, you need to know how an idea moves through ALPA's governing bodies to become policy," he told the group.
Couette explained the make-up and responsibilities of the various governing bodies and the documents—ALPA's Constitution and By-Laws, Administrative Manual, and individual MEC policy manuals—that provide the union's structure and guidance. Clay Warner, a managing attorney from ALPA's Legal Department, talked about Robert's Rules and the do's and don'ts of conducting effective council business.
The Conference is designed to introduce new ALPA leaders to the tools and resources available to them to help solve problems and to move the Association forward—internationally, locally, and individually. This year, the Conference was modified to incorporate an extensive training component to accommodate the BOD's directive to redefine the committee structure and to place a stronger emphasis on preparing the union's pilot leaders for the daily challenges of their newly held positions, said Capt. David Farmer (Delta), chairman of ALPA's Leadership Conference Committee. Rounding out the Committee are Capts. Mark Moore (Delta) and Tom Wychor (Mesaba), who assisted in developing a dynamic and interactive agenda for the Conference.
The opening day of the conference focused on an introduction to ALPA's staff and organizational structure, the strategic plan approved by the Board of Directors last fall, and the extensive professional resources available to elected ALPA representatives to help them do their job. There were also and frank discussions of ALPA's finances—including how the union has remained viable through extensive re-engineering post-9/11 and how all groups within ALPA need to live "within their means" as the union faces new challenges due to a floundering economy—from Capt. Randy Helling, ALPA's Vice-President Finance/Treasurer, and General Manager Jalmer Johnson.
In a comprehensive primer on the collective bargaining process, Bruce York, director of ALPA's Representation Department, led a group of Association staff in a mock MEC meeting. Attendees saw the various personality types that they are likely to encounter at their own council meetings and learned how to manage meetings to achieve consensus.
One of the meeting's highlights was a stirring address from guest speaker AFL-CIO Secretary-Treasurer Richard Trumka, the former leader of the United Mineworkers Union, who reminded the pilot leaders that although they are not responsible for the world's economic meltdown, as representatives of the international labor movement, they can play a major role in rebuilding America's middle class.
"It sure as hell wasn't organized labor that got us into this mess. Quite frankly, we've been the victims of an economy where the rules have been rigged against us," said Trumka, who noted that CEOs in the U.S. receive far and away the highest levels of compensation in the world. The average U.S. CEO earns 400 times more than the average U.S. worker. This extreme disparity helped create the need for the toxic investments that ultimately crippled Wall Street.
However, with a pro-labor Congress and new presidential administration, Trumka said there is hope for better times ahead and mentioned the recently approved economic stimulus plan. While the stimulus plan may not pay direct benefits to airlines, the affect of hundreds of thousands of Americans returning to work can't help but benefit the industry.
Making it easier for workers to join unions, by passing the Employee Free Choice Act, would also be a major help, added Prater. "If we can get those people to organize and get better wages, then maybe they can start flying in the backs of our airplanes again," he said.
The Leadership Training Conference continues through Thursday.