Trans States Pilots Picket at Lambert-St. Louis International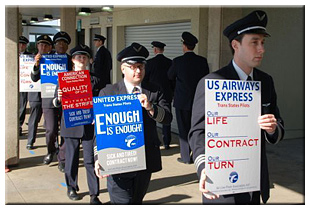 November 20, 2008 - Nearly 40 ALPA pilots braved a frigid morning in St. Louis to participate in the first informational picketing event by Trans States Airlines pilots in more than 3 years. During the 3-hour silent picket held at Lambert–St. Louis International Airport, the pilots' silent protest drew many passersby, local news media coverage, and scrutiny from Trans States management.
Trans States pilots were joined by ExpressJet, Mesa, and Northwest pilots to protest nearly 3 years of negotiations with a management team that is unwilling to engage in mediation supervised by the National Mediation Board.
"Trans States pilots are ready to take any and all legal action to obtain a fair contract, with ALPA's help, if TSA management continues to drag things out," said Capt. Jason Ruszin, the pilots' Master Executive Council chairman. "Our pilots demand that Trans States management recognizes and respects our professionalism as highly skilled pilots."
ALPA's president, Capt. John Prater, sent a message to the pilots. "A new labor-friendly administration and the appointment of a new National Mediation Board in the near future should paint a brighter picture for our industry and the piloting profession. We are hopeful that any new political structure will support our rights to fair, equitable contracts and promote a negotiating agenda that rewards efficient negotiations and punishes any attempts to thwart the process."
Prater's message continued, "You have endured far more than most pilots with a management team that has created an alter-ego airline to 'compete' with your flying. You have withstood their intransigence as they unlawfully terminated faithful union volunteers in an effort to undermine your unity and your union's strength. And you have seen, beyond a shadow of a doubt, a management that chooses to play by its rules.
"I'm sorry I can't be with you today . . . but know that I am here, along with hundreds of ALPA staffers, thousands of ALPA volunteers, and tens of thousands of ALPA pilots who know that your turn is coming. You are ALPA. We are ALPA."
In additional picketing news, the pilot group's MEC and Strike Preparation Committee (SPC) are inviting ALPA's Executive Board and the union's pilots to participate in an informational picketing event from noon to 3 p.m. Tuesday, November 25, at Washington Dulles International Airport. The picketing is designed to protest the slow pace of TSA's contract negotiations. Staging will take place at ALPA's Herndon office at 535 Herndon Parkway, Herndon, VA 20170. A briefing will be conducted at 11 a.m. Transportation from Dulles Airport to Herndon will be provided. Please call Strike Preparation Committee (SPC) chairman, Capt. Jeff Shatley, at 636-578-0105 to arrange a pickup. A van pool from Richmond is also planned. Contact Capt. Robert Coronado, the pilots' MEC vice chairman, at 804-467-6057 for more information.