ALPA Grievance Training Prepares Pilot Advocates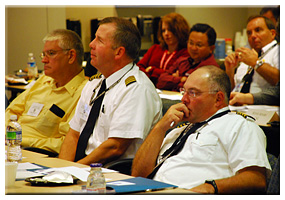 November 14, 2008 - Nearly 50 pilot volunteers attended ALPA Grievance Training Seminar this week in an effort to become integrated into the work of bargaining and enforcing contracts. They learned about pertinent terms of the Railway Labor Act, analysis of precedent-setting contract cases, strategic considerations in the grievance process, the role of the system board of adjustment, "proof of matter" considerations, grievance preparation and presentation, first-step disciplinary hearings, and mediation and alternative grievance-resolution processes.
"ALPA is distinguished from other pilot unions by the time and effort it spends to fully integrate members into the work of bargaining and enforcing contracts," says Bruce York, ALPA's Representation Department director. "Along with our periodic negotiating seminars and roundtables, the Grievance Training Seminar and our upcoming 'best practices' meeting give member leaders the chance to learn and practice more with the contract enforcement tools they'll use at work."
York adds, "These pilot volunteers also have a chance to think and talk about how contract enforcement can be used to further an overall master executive council strategic plan to advance pilot-group goals." He emphasizes that other pilot unions simply don't have the resources or the means to provide this kind of ongoing support for their members.
The 2-day program was conducted at the Association's conference center in Herndon, Va., and is periodically conducted for grievance committee representatives and is taught by attorneys from ALPA's Representation Department who specialize in pilot labor contract negotiations and enforcement.