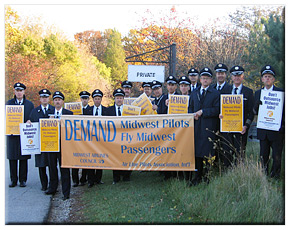 Midwest Pilots Take Picketing Efforts in New Direction
On Friday, October 31, a contingent of Midwest Airlines pilots staged a peaceful demonstration in Southeast Milwaukee at the exclusive lakefront estate of Midwest Airlines CEO Timothy Hoeksema. The event was conducted at the entrance to the private driveway Hoeksema shares with several neighbors.
The Midwest pilots were protesting the outsourcing of their jobs to Republic Airways and the subsequent furlough of a vast majority of their coworkers. The loss of income for those pilots, and hundreds of other Midwest employees, puts them in jeopardy of losing their homes. The protest was designed to express the pilots' outrage at management's outsourcing of Midwest pilots' jobs in blatant violation of the collective bargaining agreement.
Several local radio stations and television news cameras captured the Midwest pilots and their protest including WTMJ-TV (Channel 4), Milwaukee's NBC affiliate.
For more information, visit the Midwest pilots' website at www.DontOutsourceMidwest.com.