Release #08.EIA
October 27, 2008
Evergreen Crewmembers Informational Picket at JFK
Pilots and flight engineers march to express dissatisfaction with limited advancement in contract negotiations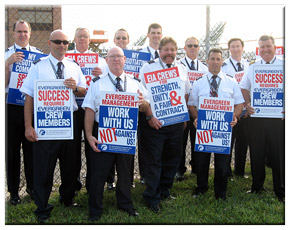 JAMAICA, NY—Evergreen International Airlines (EIA) crewmembers, represented by the Air Line Pilots Association Int'l (ALPA), conducted informational picketing on Monday at JFK International Airport. In the fourth year of negotiations, Evergreen crewmembers have seen minimal progress at the bargaining table and little interest from senior-level management to come to an agreement for a new contract, despite the involvement of a mediator. Flightcrew members for the cargo airline have not had a new contract since 1999.
Joined by pilots from other ALPA airlines, including Delta and ASTAR Air Cargo, Evergreen pilots marched outside Evergreen's operations building at the JFK Cargo Terminal.
"Evergreen crewmembers are fed up with the slow progress at the negotiating table with our management, and the time has come to draw a line in the sand," said Professional Flight Engineer William Fink, chairman of the Evergreen pilots council of ALPA. "We deserve a fair contract and have begun the stand against management to achieve it. It's been four years too long."
In September, Evergreen beat out several other cargo carriers to win a lucrative new route flying from JFK to Shanghai six days a week beginning in March 2009. The airline is also the sole operator of the new Boeing Large Cargo Freighter (LCF), a highly modified 747 designed to carry large segments of the new Boeing 787 Dreamliner from the component factories in Asia to the Dreamliner assembly plant in Washington State.
"Cargo is the best-performing segment of the airline industry right now, and Evergreen has been more successful than most in winning new business. The airline stands to gain millions of dollars in new revenue and with fuel prices down, there's absolutely no reason why management can't reach a fair and reasonable contract with its crewmembers," Fink said.
ALPA is the bargaining representative for the more than 250 pilots and flight engineers in the service of EIA. Founded in 1931, ALPA represents 53,000 pilots at 37 airlines in the U.S. and Canada. Visit the ALPA website at http://www.alpa.org.
# # #
ALPA CONTACT: Rusty Ayers, (847)-323-9519, Rusty.Ayers@alpa.org
Capt. Dean Kidd, (208) 340-4537, Dean.Kidd@alpa.org