DHL Pilots to UPS Management: Donít Pick Up Our Cargo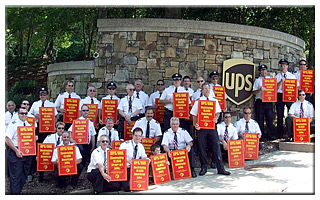 On Thursday, more than 60 ALPA members from ASTAR and other groups picketed in front of UPS World Headquarters in Atlanta to protest the proposed agreement to take on all DHLís North American flying.
ASTAR pilots were joined by the ALPA brothers and sisters from Atlantic Southeast, Delta and United who rallied to call for an immediate end to this deal. The picketers were supported by a tow plane and a mobile banner that declared ďUPS: delivering pink slips.Ē ALPA also ran a half-page ad in the cityís major newspaper urging UPS to do the right thing.
Pilots were interviewed by many media outlets, including the Atlanta Journal-Constitution, the local NPR station, and more. Earlier this week, ASTAR MEC chairman, Capt. Pat Walsh, met with Congressman Steven La Tourette (R-Ohio) to talk about what could be done at the congressional level to stop this deal.
The deal on the table threatens to transfer all of DHLís North American air cargo operations from ASTAR to UPS, one of its chief competitors. ALPA will continue to fight for the ASTAR pilots and the other 10,000 Americans who will lose their jobs should this deal be finalized.
DHL owns 49 percent of ASTAR and is represented on ASTARís Board of Directors. ASTAR has been providing air cargo services to DHL for almost 30 years.