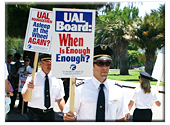 Hundreds Gather for United Family Unity Rally in California
Hundreds of pilots, flight attendants, machinists and members of other unions gathered on Thursday, June 12 in Woodland Hills, Calif., for the United Family Unity Rally.
The United pilots, employees and their family members gathered in a park across the street from where United Airlines was holding its annual shareholders' meeting. This year, United management moved the meeting to the West Coast for reasons unknown.
"As we witness the various factions of our airline converge on Woodland Hills Thursday, it's apparent which individuals have the pure interest of United Airlines' long-term success at heart," said MEC Chairman Captain Steve Wallach, in a video address to the crowd.
"It's certainly not Glenn Tilton and senior executives, who will just pull the ripcords on their golden parachutes as soon as they've taken enough from United's coffers. It's not the institutional shareholders who only care about making a quick dollar at the expense of the company. Look at the pilot or fellow employee standing next to you. Look at the family members who have joined you today in Warner Park. Think of the pilots who today are flying the line and couldn't join you today. Think of the 55,000 employees who make this airline fly day in and day out, and have devoted years of sweat equity to this airline. These are the individuals who really have the interests of United Airlines at heart."
Stay tuned for video coverage on The ALPA Channel.