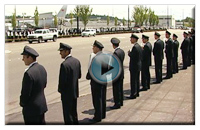 Click on the image above to watch video coverage of the rally.
Alaska Shareholders, Board of Directors Hear from 400+ Pilots
May 22, 2008 - More than 400 Alaska Airlines pilots picketed in Seattle, Anchorage and Orange County on Tuesday in conjunction with the Alaska Air Group Shareholders Meeting. Outside the meeting at the Boeing Museum of Flight in Seattle, more than 300 pilots were joined by more than 50 other uniformed Air Group employees, including Horizon Air pilots who are also in negotiations for a new contract. Pilots from carriers including United, FedEx, Continental, Delta, and UPS joined the picket as well.
Virtually every Alaska Airlines pilot who was not working was on a picket line.
"It was inspiring to see that, after 16 months of negotiations, this pilot group is as passionate today as they were then about our bargaining goals," said Negotiating Committee Chairman Paul Stuart. "It makes me proud to sit at the table when I know there are 1,500 pilots behind this Negotiating Committee. This is the way we're going to get things done—by showing management, the shareholders, our Board of Directors and the flying public that we mean what we say."
About 100 family members showed their support by donning t-shirts with slogans of unity and visiting the Museum of Flight while the pilots were on the picket line. A mobile billboard with the message "Will Alaska Airlines Pilots Be Forced to Strike?" drove around the Museum and SeaTac airport area, making several passes by the Alaska Airlines headquarters building.
Representatives from the Associated Press, KUOW radio, the Seattle Post-Intelligencer, and Seattle news channels 13 and 4 interviewed pilots on the picket line.
Inside the Shareholders Meeting, Alaska's CEO Bill Ayer held firm to the position that Alaska's pilots would not receive an increase in pay without giving something in return—despite repeatedly saying he would not negotiate in public. This position is unacceptable to Alaska's pilots, given the relative financial strength and predicted future success of their company. During the Meeting, Alaska's management announced new flying from Seattle to Kona and Minneapolis, which Alaska's pilots view as an example that their company is poised for future success and growth.
ALPA President Capt. John Prater, in addressing the Meeting, said he would be back in Seattle next for one of two reasons: to sign a contract or join the Alaska pilots in a strike. He also committed to draw upon the $80 million Major Contingency Fund to support a strike if management forces Alaska's pilots into one.
Alaska Airlines pilots who were working on May 20 showed their support by placing stickers that replicated slogans from the picket signs on their flight bags.
The large turnout at the rally and picket, and the showing of support from fellow pilots flying that day demonstrate the Alaska pilots' continued commitment to their goal of obtaining a contract that improves and protects their contract in the four cornerstone areas of pay, job security, retirement security, and health benefits.