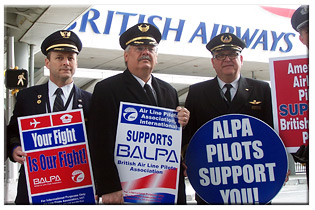 "Intolerable!"
ALPA pilots picket coast-to-coast to back British Airways pilots
March 15, 2008 - In a stirring show of cross-Atlantic unity, ALPA pilots conducted informational picketing across the United States on Saturday to demonstrate solidarity with their union brothers and sisters at British Airways (BA) as they fight their management's attempt to start a new airline without using pilots from their seniority list.
"ALPA pilots stand in unity with British Airways pilots to make it clear that we will not tolerate management's attempt to break its pilot union," said Capt. John Prater, ALPA president. Prater walked the informational picket lines at John F. Kennedy Int'l Airport in New York, where he was also interviewed by the news media.
British Airways is planning to use BA airliners, BA management, the BA brand, and profits that are the result of BA pilots' professionalism, to start its new OpenSkies airline. But BA management is not planning to use BA pilots. The British Airline Pilots Association (BALPA) insists that BA pilots deserve and demand access to OpenSkies flying—a right they have earned as key partners in BA's success.
"We are here today to make it clear that this is a fight that matters to all airline pilots," said Capt. Paul Rice, ALPA first vice president and IFALPA deputy president. "We will stand with our British brothers and sisters until they win this fight."
The ALPA events were held to raise awareness of the issues at stake. They coincided with a large rally held by BALPA in London, where 1,000 pilots and family members pointed a finger of shame at their management's seditious business plan. ALPA pilots rallied at five international airports, including Los Angeles, New York, San Francisco, Seattle, and Washington, D.C. to demonstrate their unwavering support for BALPA—and to warn other managements not to mimic BA's mistakes.