ASTAR Pilots And ALPA President Picket Management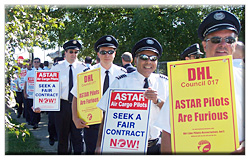 September 18, 2007 - ALPA's president, Capt. John Prater, joined nearly 150 ASTAR Air Cargo pilots as they kicked off informational picketing in downtown Wilmington, Ohio, on September 13 to show their continued unity in achieving a fair contract. After 3½ years of contract negotiations, management continues to deliberately stall and make unfair concession demands on pilots.
The demonstration, as well as newspaper advertisements and billboard displays throughout the Wilmington area, continue to be key elements in sending the unified message to management that 3 years without a contract is too long, as is 4 years without a raise.
ASTAR pilots want pay raises similar to what ASTAR management has provided itself. Pilots are also seeking job protection and retroactive pay.
The ASTAR MEC chairman, Capt. Earl Smith, said, "We're giving it one more try to achieve a new contract."
Smith added that "one thing we find really curious is that DHL has a contract with ASTAR—the ACMI agreement—which reimburses the company for its labor costs up to the cost of living, plus 1 percent. We are trying to work within that labor cost cap. But management seems to be unwilling to do anything other than change some work rules that will reduce pay. For example, management wants to adjust down credit hours that people accrue on different trips."
ASTAR pilots and their ALPA union leaders have taken several legal steps in preparation for legal self-help actions. In late July, the pilots unanimously voted to authorize the leaders to explore self-help options. A strike authorization vote was being during conducted the last 2 weeks of September.